Kentro Greek Kitchen
Finding Authentic Greek Food in Southern California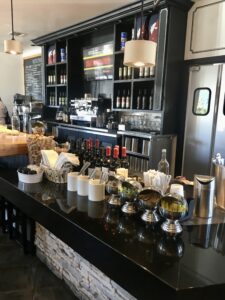 I found Kentro Greek Kitchen on my quest to find authentic Greek food in Southern California.  Kentro is a causal restaurant  (meaning that you order at the cashier and the staff brings the food out to you).
Memories of Greek Food
Being a good part Greek, I love Greek food, especially Greek food done right.  I have found memories of going to New York and having authentic Greek food in Astoria, a neighborhood in New York City's burrow Queens.  One of my favorite dishes was a shrimp dish baked with tomatoes, Feta cheese, and served over rice.  Boy, was it delicious!
I also remember traveling to Athens, Greek when I was seventeen and trying try most delicious spaghetti with meat sauce.  What made this spaghetti different is that it was thicker than the traditional spaghetti we have here.  It was so good!
If you live in Greece, or New York or Chicago, or San Francisco you have plenty of great Greek restaurants to choose from, but not so many here.  Living in Southern California, finding an authentic Greek restaurant is not always easy.
For the longest time, any time I saw a "Greek" restaurant, I'd get my hopes up, only to have them crushed by the realization that it's just another fast food style joint, serving nothing but Gyros, Souvlaki, and salad.  Nothing wrong with those menu items, but Greek food is no much more.
So, you can imagine my joy, when I found Kentro Greek Kitchen on Yelp and look through the photos and menu items and saw "real" Greek food.  What I saw was a variety of dishes I wanted to go try.  Try I did.
Kentro Greek Kitchen Menu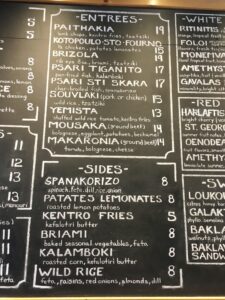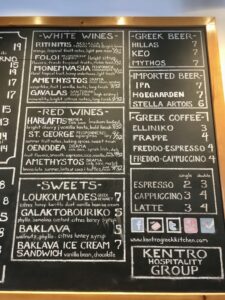 One of the first things you see when you walk into Kentro is the wall menu with a huge selection of dishes you can try.  In addition to your typical beverage selection, Kentro also offers a selection of wine and beers imported from Greece.
Now, as a disclaimer, I took several trips do Kentro to be able to try the following dishes.  I did not eat them all in one visit.  As much as I enjoy eating, that would be impossible, even for me.  😂
This restaurant has something for everyone.  One thing I noticed is that they have a great selection of items that are vegetarian.
Appetizers/Starters
Kentro has a huge variety of appetizers to select from.  You could easily make a meat out of any two of them.  Here are just of few of them.
Avgolemono Soup
This is Greece's version of the chicken and rice soup, except it's got a tangy lemony flavor.  This soup brings me memories of my childhood.  My aunt Betty used to make this soup from scratch.
The Avgolemono Soup at Kentro has plenty of chunks of chicken meat, wild rice, and that delicious hint of lemon that the soup is known for.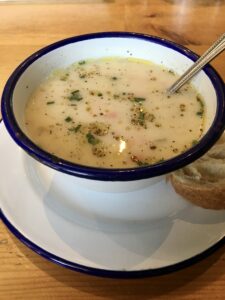 Butter Lettuce Salad
Kentro has a nice selection of traditional Greek salads.  Naturally, I went with the Butter Lettuce Salad because of the Feta Cheese dressing and roasted peppers.  This is one tasty salad.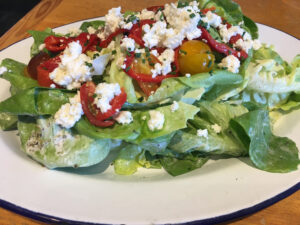 Spanakopita
The spanakopita is a savory pie filled with spinach and cheeses.
You may have seen this in the dish in the frozen section of your supermarket.  That does not even compare to this recipe.  Not even close.  The pie crust here is extra buttery and flaky.  It really has that homemade feel and taste to it.  It's definitely one of my favorite items here.
I would especially recommend this as a meal option for someone who is vegetarian.  While I'm not vegetarian, I still occasionally order this as a main course.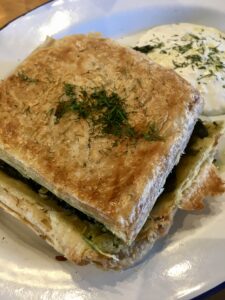 Dolmades
As you might know, Dolmades are filled grape leaves that are typically filled with some kind of a rice mixture.  Most likely, you've seen dolmades that are canned (like sardines) in the supermarket or in Greek specialty stores.  Thankfully, these are nothing like that.
These Dolmades arrive piping hot and are served with a generous dollop of the yoghurt dip.  They are surprisingly good.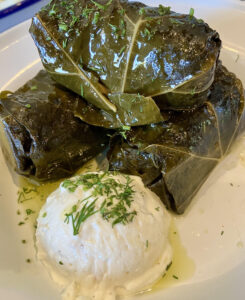 Tiropites
Slightly sweet and slightly savory, these Phyllo dough pies and stuffed with a mixture on cheeses (including Feta), and then drizzled with honey and mint.  I really enjoy the balance of flavors in this appetizer.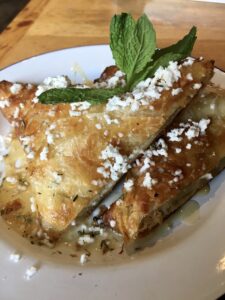 Tirokafteri
Tirokafteri is a spicy blend of cheeses, including Feta and Kefalotiri.  They serve this dip along with a choice of warm pita bread wedges or Greek bread.  I love all things spicy so, this is definitely one of my favorite items to add to a variety of dishes.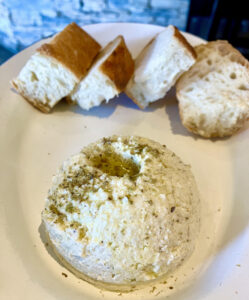 Octopus
Octopus is a very popular dish in Greek restaurants, especially on Greek islands.  The Octopus here is charbroiled, then drizzled with a lemon sauce.
Flat Breads
Kentro has a variety of flat breads, including several vegetarian versions.
However, one of their most popular one is the Sausage Flat Bread (Loukaniko in Greek).  The flat bread is topped with Greek sausages, marinated tomatoes, mushrooms, onions, and a blend of Feta and Manouri cheeses.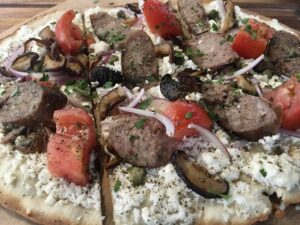 Entrees
Makaronia (me Kima) Sto Furno
This is the Greek version of Spaghetti with Bolognese/Meat Sauce.  The Greek noodles are wider versions of spaghetti noodles. They are more akin to the Bucatini noodles.  Kentro tops the dish with cheese and then bakes it.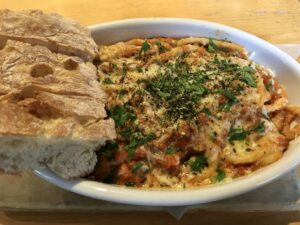 Moussaka
Imagine a cross between a Lasagna and an Eggplant Parmigiana.  The Moussaka consists of layers of eggplant, meat sauce, cheese, and béchamel.  They bake this dish in the oven.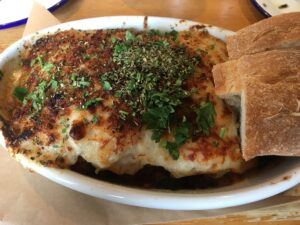 Psari Sti Skara
Psari means fish in English.  The Psari Sti Skara is charbroiled and served with Spanakorizo (rice mixed with spinach, herbs, and feta cheese) and yoghurt dip.  Additionally, the fish is served on a lemon sauce.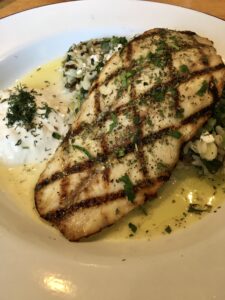 Yemista
Yemista is a baked tomato that is stuffed with wild rice and feta cheese. This is another good option if you're on a vegetarian diet.
They serve it with Greek style French fries.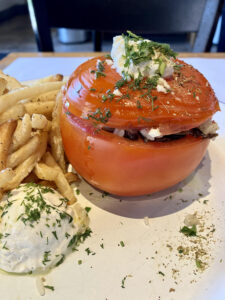 Desserts
Baklava
The Baklava at Kentro is a traditional Greek style Baklava.  That is to say, it is made with layers of crisp phyllo dough, walnuts and drizzled with honey syrup.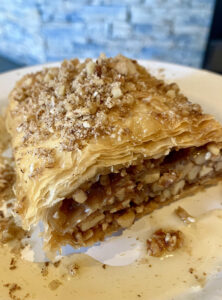 Galaktobouriko
This is my favorite Greek dessert.  The Galaktobouriko is a warm custard pie is topped with crisp phyllo dough.
You can smell the cinnamon, honey, and orange peels when the dessert is hot.  The dessert is topped with a sprinkle of powdered sugar and cinnamon.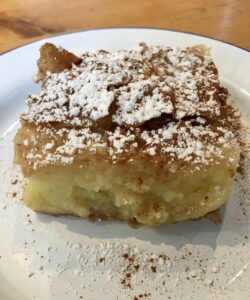 Greek Coffee
All great meals must end of with a coffee drink.
Freddo Cappuccino
This is the Greek version of the Iced Cappuccino.  Super refreshing and not too sweet, this is my favorite coffee beverage.  I order it every time I eat here.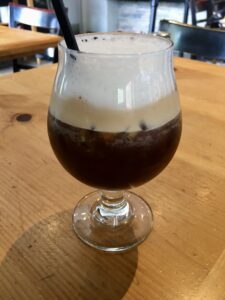 Frappe
Does the name sounds familiar?  Is the Frappe the Greek version of the Frappuccino?  Actually, it's the other way around.  In, fact, according to Wikipedia, this iced blended coffee drink was invented in Greece in 1957.  You learn something new everyday.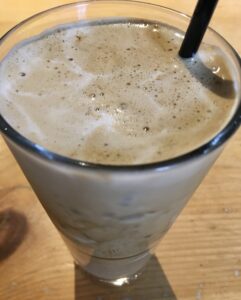 Lastly, I wish you "Kalí órexi."  In other words, Bon appetit.