Gabbi's Mexican Kitchen
Situated in renovated 100 plus year old building in Old Towne Orange, Gabbi's Mexican Kitchen has a modern and unique feel.
Old Towne Orange
Planning a trip to Orange, CA?  I definitely recommend that you take a stroll around Old Towne Orange.  Old Towne Orange (yes, spelled the old fashioned way), is listed in the National Registrar of Historic Places.
It's a charming city center, filled with adorable historic homes in a variety of different styles, such as Victorian, Cottage, Craftsman Bungalow.  When you are in Old Towne, you feel like you are transported to a different era.
Old Towne Orange, which used to be known for antique shops is now equally known for great places to eat.  Most of these restaurants are unique, one-of-a-kind type of places.  You will be hard pressed to find a large chain in this area of Orange.
Gabbi's Mexican Kitchen
If you like Mexican cuisine, then Gabbi's Mexican Kitchen is definitely worth checking out.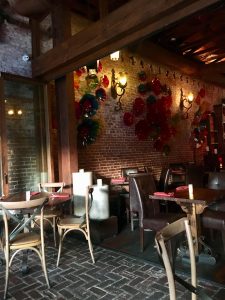 The decor is eclectic and artsy.  It's a cool blend between the old and the new.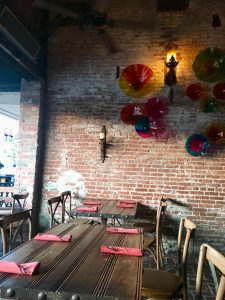 Knowing that the place fills up pretty quickly for lunch and dinner, we showed up around 4PM, and were able to beat the crowds.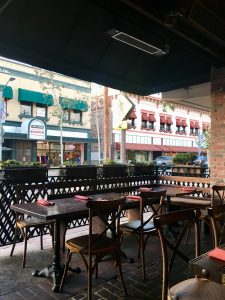 The cuisine is a modern, upper-scale take on authentic Mexican recipes.  So, basically, what that means is that the dishes look pretty and taste great.
Blood Orange Caipirinha
I started my meal off with a Blood Orange Caipirinha cocktail.  According to the menu, the ingredients included brazil 51 cachaca, blood orange, lime, mint simple syrup, and soda water.
The drink was refreshing and a little bitter-tangy from the Blood Orange juice.  Overall, it was nicely balanced.
Panuchos de Yucatan
For the first course we ordered was the Panuchos de Yucatan.  This is one of my favorite appetizers at Gabbi's.   It's visually appealing and full of flavor.  It's one of those dishes, you eat with your eyes first.
Included in this appetizer are three delicious Panuchos.
The main components of this dish include puffed tortillas, black beans, shredded achiote pork, avocado, onion escabeche (which is a pickled onion popular in the Yucatan region), and a spicy habanero salsa.  Although not listed as a main ingredients, the dish also includes some crema, and queso fresco.  These components work to balance the spicy flavors.
Also, served on the side is some spicy tomatillo salta.  That habanero salta and tomatillo salsa really adds a nice kick to the dish.  It's a good thing I ordered that Blood Orange Caipirinha!
While this is one of my favorites on the appetizer list, I also recommend their Empanadas de Viento and Gorditas al Pastor.
Enchiladas de Camarones (Shrimp Enchiladas)
Now for the main course!  This is my all time favorite menu item at Gabbi's.  While I try to switch up my appetizers and sides, I usually stick to this menu item.  It is that good.
The shrimp enchiladas at Gabbi's are probably the best shrimp enchiladas I have had anywhere.  The enchiladas are full of plump shrimp.  However, what really makes the dish is the Creamy Poblano Sauce.
Served on the side of the enchiladas are rice and black beans.
However, I had to have a side order of Plantains.
Plantains
This is one of those off the menu side dishes that you have to try.  While Plantains are from the same family and look a lot like the common Bananas, they are less sweet and have a firmer texture.  So, you can use Plantains next to more savory dishes.
The Plantains here are fried until tender and slightly caramelized on the sides.  To make them even better, they are drizzled with some crema and topped with some crumbled queso.
Esquites (Grilled Corn)
The grilled corn tossed with chipotle crema, cotija, and grilled lime, is another delightful choice for a side.  This side dish is large enough for two to share.
Enchiladas Suizas
This was my husband's choice.  The Enchiladas Suizas has jidori chicken, cheese, crema, and roasted tomatillo sauce.
That ends another enjoyable meal at Gabbi's Mexican Kitchen in Old Towne Orange.
For more information, visit Gabbi's Mexican Kitchen website.
(This post was gratuitous and not sponsored).