Homemade BBQ Sauce
The weather is warming up and the smell of barbecue is in the air.  Can you smell it?  This is the all purpose Homemade BBQ Sauce you'll love slathering on everything.  This sauce is a little sweet, a little tangy, and a little spicy.
Enjoy this BBQ Sauce on everything from baked salmon to chicken to short ribs.  You've got so many options.
This sauce also works as a dip.  If you are looking for a BBQ dipping sauce for your Oven Baked Chicken Tenders, this is it.
Let's get barbecuing!
How to Make Homemade BBQ Sauce:
The list of ingredients may seem long, but all you have to do is throw them all together at the same time in a large heavy bottom saucepan or pot.
Then, cook the mixture on low-medium heat for about 20 to 25 minutes, or until the ingredients have come together and have reduced and thickened into a delicious BBQ sauce that you'll want to slather on everything.  That's pretty much it.
You can alter this BBQ sauce to your liking.  If you want the sauce to be more spicy, you can add more spices.  If it's too thick for your taste, you can add a little more water and cook it for a few more minutes.  It's up to you.
Enjoy!
If not using the sauce immediately, allow the sauce to cool to room temperature.  Then, pour the sauce into a Glass Canning Jar.  Secure the lid on top and refrigerate for up to one week.
Try this delicious BBQ Sauce on my: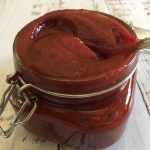 Homemade BBQ Sauce
Ingredients
24

Ounces

Tomato Paste

3/4

Cup

Water

1/2

Cup

Ketchup

5

Tablespoons

White Wine Vinegar

9

Tablespoons

Brown Sugar

2

Tablespoons

Corn Syrup

(use Organic; Non GMO)

2

Tablespoons

Honey

1

Tablespoon

Molasses

2

Teaspoons

Onion Powder

1/2

Teaspoon

Garlic

1/2

Teaspoon

Salt

1/2

Teaspoon

Paprika

1/2

Teaspoon

Cayenne Pepper

1/4

Teaspoon

Mustard Powder

1/8

Teaspoon

Pepper

1/2

Teaspoon

Chipotle Chili Pepper Powder

1

Teaspoon

Worcestershire Sauce

3/4

Teaspoon

Soy Sauce
Instructions
Add all of the ingredients in a large heavy bottom saucepan or pot.

Cook on low-medium heat for about 20 to 25 minutes or until the ingredients come together, reduce, and thicken.