Fusilli Bolognese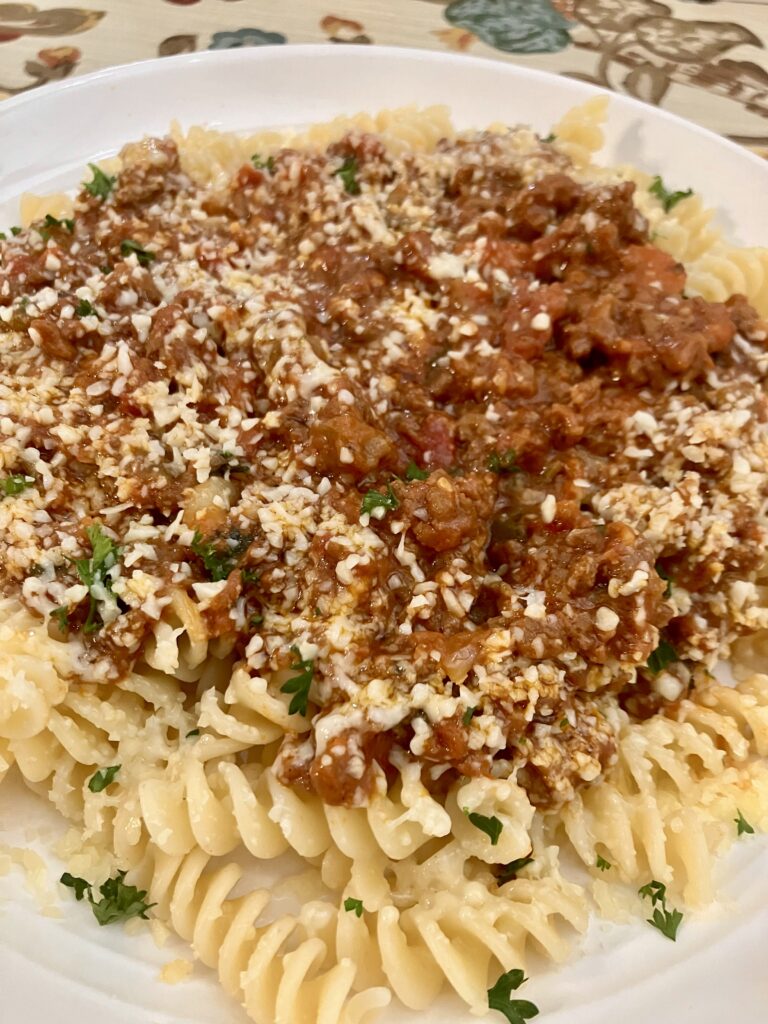 This Fusilli Bolognese will transport you to Bologna, Italy.  It's a hearty and satisfying meal your family can enjoy.
What is Fusilli?
Fusilli is a pasta variety that is shaped in the form of a corkscrew.  It is a good pasta to use with hearty sauces that will cling to it.
What pasta should I use if I can't find Fusilli?
The closest pasta type is the Rotini pasta.  Fusilli and rotini are both short corkscrews shaped pastas made from semolina (Durham wheat) flour.  Foods Guy has a detailed side by side comparison of the two pastas.
Bolognese Sauce
Bolognese Sauce, also known as Ragù Alla Bolognese is meat based sauce with tomatoes, originating in the Bologna of Italy.  The sauce usually contains ground up beef and pork (usually pancetta), along with wine, tomatoes, celery, onions, carrots, herbs, and milk.
You can enjoy this Bolognese Sauce with a variety of pasta dishes such as Lasagna, Tagliatelle, Spaghetti, and Gnocchi.  The list goes on.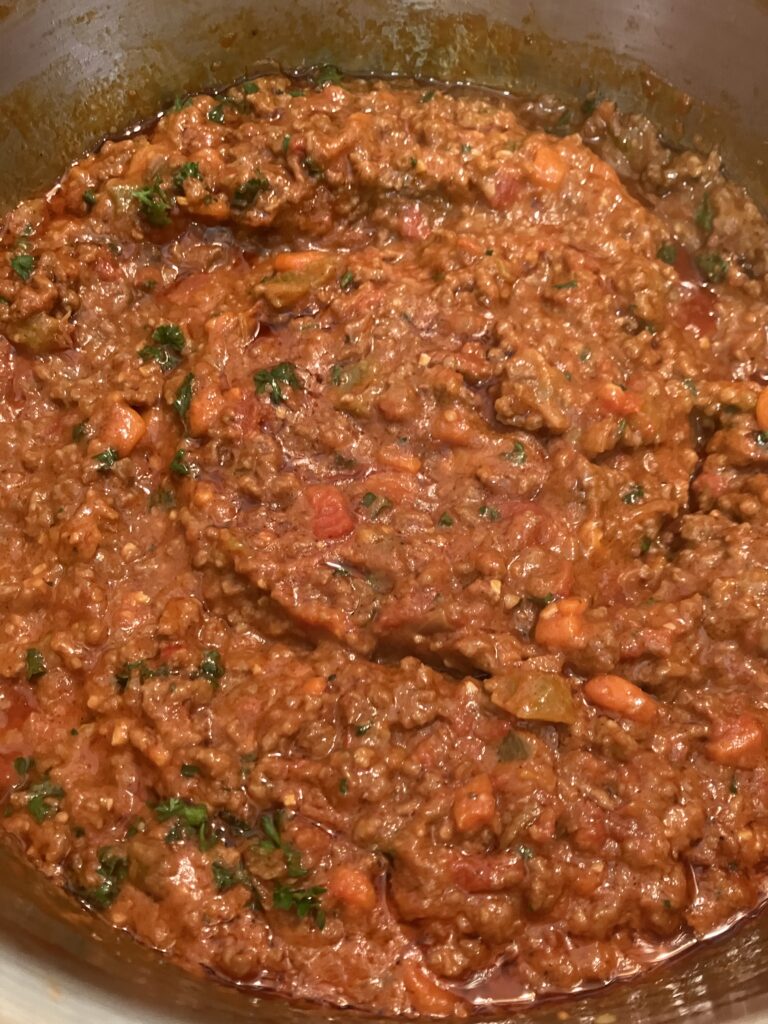 Bolognese Sauce vs Meat Sauce.  Is there a difference between Bolognese Sauce and an American Style Meat Sauce for Pasta?
The Bolognese Sauce is basically a meat sauce with tomatoes, while American-Italian style meat sauce for pasta is basically a tomato sauce with meat.  So, it's more in the proportions than the ingredients.
What you'll need to Fusilli Bolognese:
1 lb Fusilli slow dried pasta
2 tablespoons butter
1 tablespoon light olive oil
1 cup yellow onion, finely chopped
1 cup celery, finely chopped
1 cup carrots, finely chopped
3 teaspoons salt
1 tablespoon garlic clove, minced
1 to 1-1/4 lb ground beef
1/2 lb ground pork sausage
1/4 teaspoon pepper
1/4 teaspoon celery salt
1/4 teaspoon garlic powder
1/2 teaspoon onion powder
2/3 cup dry red or white wine
3 cups tomatoes, peeled and diced
6 tablespoons tomato paste
2 cups chicken broth or stock
2 chicken bullion cubes
4 tablespoons cream
2 tablespoons (plus extra to serve) Parmesan cheese, grated
2 tablespoons (plus extra to serve) chopped fresh parsley
How to make Bolognese Sauce:
In a large pot or dutch oven, melt the butter, along with the oil.
Add the celery, onions, and carrots.  Add 1 teaspoon of the salt.  Cook on low-medium heat until the vegetables are tender.  This will take about 25 minutes.
Stir in the minced garlic and cook for an additional 5 minutes.
Add the beef and pork.  Sprinkle with 1 teaspoon of salt, plus the pepper, celery salt, garlic powder, and onion powder.  Cook until no longer pink.
Stir in the wine, along with the tomatoes.  These two items add some acidity to the dish.  Cook for about 15 minutes, or until most of the liquid is absorbed.  Stir the dish occasionally as needed.
Add the chicken bullion cubes along with the chicken broth.  Cook for about 1 hour, stirring on occasion.  Skim the excess fat off.
Stir in the cream, Parmesan cheese, and chopped fresh parsley.  I like using cream instead of milk for the extra richness.
For the Fusilli and to finish off the dish: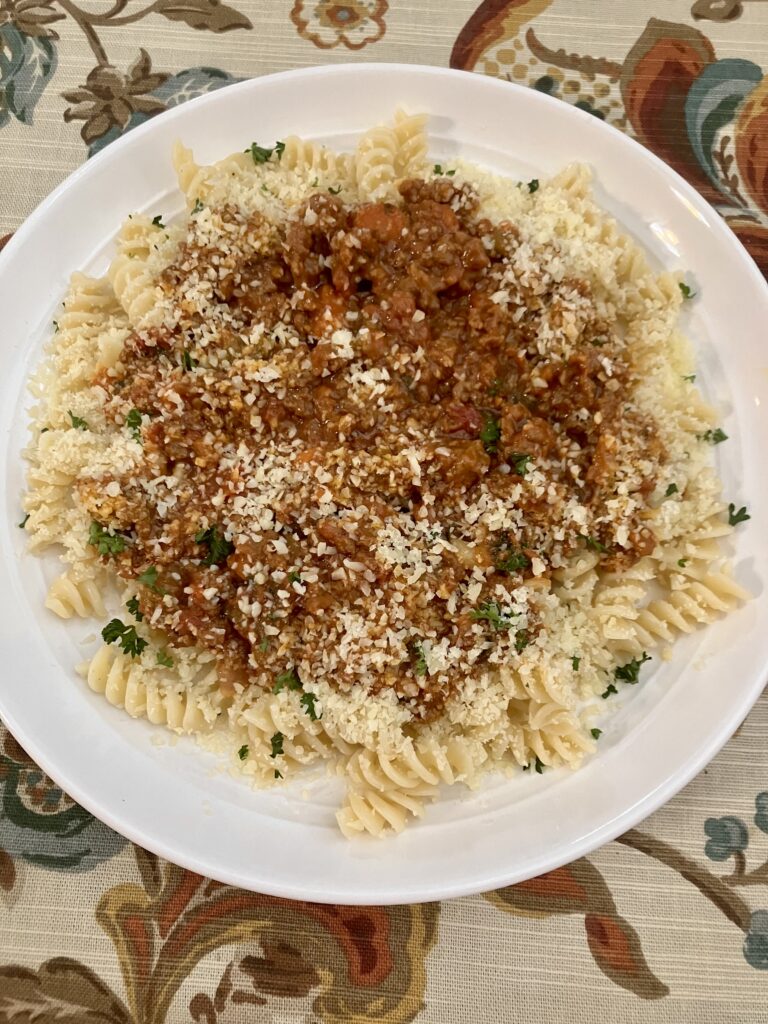 Add a tablespoon of the olive oil to a pot of boiling water.  Add the pasta and boil to the packages direction.
Drain the pasta.  I use my trusty colander to do this.