Spinach Artichoke Dip
Spinach Artichoke Dip is one of the most popular appetizers.  You can find it in almost any American restaurants and bar.
It's the kind of appetizer or snack that's warm and comforting.  Although Spinach Artichoke Dips are served all year long, it's just perfect for a cold winter evening.  Its great for a party, or just as delicious for a party of one or two.
It's actually one of my favorite appetizers too.  There is something decadent about a melted blend of cheeses with the bits of spinach and artichoke hearts.  Yum!  With all that melted cheese, it kind of reminds me of a Swiss Fondue.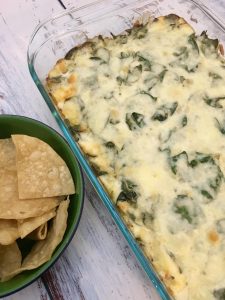 Let's break down the steps to delicious Spinach Artichoke Dip: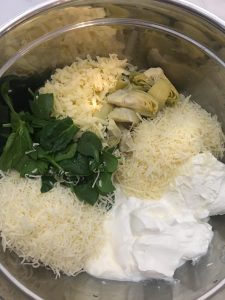 Most recipes use frozen spinach.  I have tried that in the past.  Today, I am using fresh organic baby spinach because it's more tender.  Plus, it saves me from having to defrost and drain the frozen spinach.
The artichokes I am using are the artichoke hearts because they are the most tender part.
Next, comes my favorite part: the combination of cheeses.

Cream cheese and parmesan are the two staples of most Spinach Artichoke Dip recipes.  Poll most recipes and they will include cream cheese and parmesan cheese.  Cream cheese is a soft cheese that is high in fat and creamy.  It works very well with many ingredients.  Parmesan adds a nice saltiness to the dish.
I am adding mozzarella cheese for that melty, bubbly quality, and for how mozzarella browns on top.  Think of how yummy a pizza or lasagna with bubbly mozzarella cheese on top looks.
I am also using Gruyere because it's a great melting cheese.  It's a little bit more expensive than the other cheeses, but come on…this one of the main cheeses they make fondue from, so it's worth it.

Use a full fat mayonnaise since it's made with eggs.
Last, use a full fat sour cream.
Step Three:  Spread the Spinach Artichoke mixture into a 9 by 13 inch baking dish.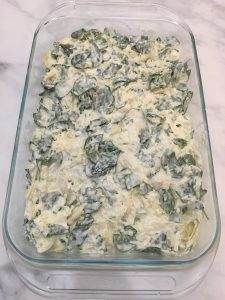 Step Four:  Bake in the preheated oven for about 30 minutes.  You want your Spinach Artichoke Dip to be hot and bubbly.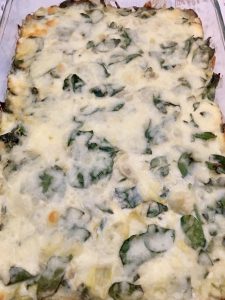 Enjoy the deliciousness!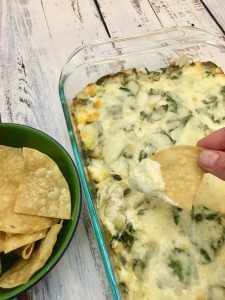 Other Tasty Appetizers For Your Next Get-Together: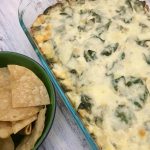 Spinach Artichoke Dip
Ingredients
3

Cups

Fresh Baby Spinach

(rinsed, drained, and chopped)

1

(14 Ounce) Jar or Can

Artichoke Hearts

1

(8 Ounce) Bar

Cream Cheese

1-1/4

Cups

Shredded Parmesan Cheese

2

Cups

Shredded Mozzarella Cheese

1

Cup

Shaved Gruyere or Cru Cheese

1

Cup

Mayonnaise

(use a full fat mayo)

1/2

Cup

Sour Cream
Instructions
Preheat your oven to 350 degrees Fahrenheit.

Mix all of the ingredients in the same bowl.

Spread the Spinach Artichoke mixture into a 9 by 13 inch baking dish.

Bake in the preheated oven for about 30 minutes.